Our Technology
The core of Cibus' gene editing technology is a system of proprietary technologies called the Rapid Trait Development System™ or
RTDS

® that integrates crop specific cell biology platforms with a series of gene editing technologies.
RTDS

enables: the Trait Machine™; a stand-alone semi-automated end-to-end precision breeding system that is timebound and predictable.
The Trait Machine™
Cibus believes that RTDS and the Trait Machine represent the technological breakthrough in plant breeding that is the ultimate promise of plant gene editing: the ability to materially transform the productivity of the breeding process that currently averages more than a decade into a timebound, reproducible and predictable science-based breeding process.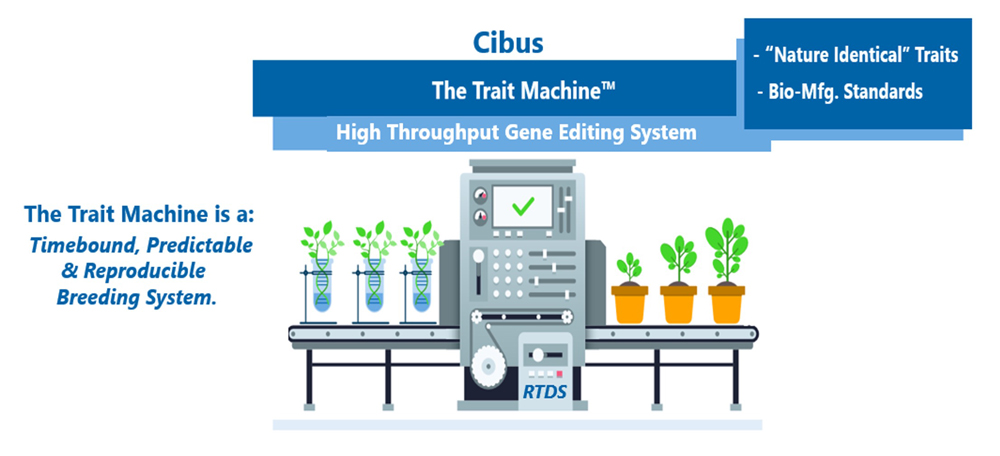 The Trait Machine enables Cibus to develop and commercialize traits at a fraction of the cost and time of conventional breeding or GMO processes. The Trait Machine not only changes the scale and speed of breeding it also exponentially changes the range of possible genetic solutions.
Cibus is currently completing construction of its Oberlin facility in San Diego, California. It is the first stand-alone production facility housing the Trait Machine. Oberlin is expected to be completed in H2 2023 and is expected to be operational for Canola, Rice, and Soybean. When we say operational, it means that Cibus has a validated RTDS cell biology platform in the specific crop in which it can take a single cell from an elite germplasm and regenerate that cell into the underlying plant. Cibus' proprietary series of gene editing technologies are then integrated with the specific cell biology platform to complete the Trait Machine process for a specific crop.
In addition, Cibus expects to be operational in Wheat by yearend 2024 and in Corn by yearend 2025. That is company's goal is to be "Trait Machine Operational" across all five major crops by yearend 2025. This would give the company the Company access to Trait Machine commercialization on over 500 million acres.
The Trait Machine is central to Cibus' vision for the Future of Breeding:
High throughput gene editing (trait development) systems
working in partnership with breeding programs.
In other words, trait developers working with seed companies to develop and deliver unique traits that have not been possible using conventional breeding techniques or, if possible, would take materially longer. Cibus believes that partnerships like these are the future of breeding and a key part of the vision behind the Trait Machine. Traits developed in collaboration with seed companies in a process in which we directly edit a customer's elite germplasm and transfer back to the customer their edited elite germplasm ready for commercial development.
This is the core of Cibus' business.