Our Business
Cibus is part of the multi-billion-dollar plant seed industry. Cibus is the leader in the new era of high throughput gene editing technology that can develop plant traits precisely and predictably at a fraction of the time and cost of conventional breeding. Cibus is not a seed company. Cibus is a technology company that develops and licenses traits to seed companies for royalties on seed sales.
Cibus' target market is Productivity Traits that improve yields, lower input costs such as chemicals and increases the sustainability and profitability of farming. It has a pipeline of six productivity traits including important traits for pod shatter resistance, disease resistance and nutrient use efficiency. Cibus focus is scale, multi-crop traits that can impact greater than 100 MM acres.
Industry
Agricultural gene editing is a plant breeding technology that has the ability to develop new plant traits precisely and predictably at a fraction of the time and cost of conventional breeding. In the new technology-driven plant breeding industry, high throughput gene editing systems is a key component of the new breeding technology infrastructure that is addressing the severe speed and scale limitations of conventional breeding. Cibus' proprietary gene editing technologies change the speed and scale of trait development to deliver material increases in the number of new traits to address the major plant challenges such as disease, pests and climate change; offer material increases in farming productivity and profitability; and provide material decreases in the amount of chemicals used in farming.
Agricultural gene editing is an important breeding technology breakthrough because traits from gene editing do not contain foreign DNA or transgenes. As a result, they are increasingly being regulated similarly to traits developed using conventional breeding. (See: Regulatory Overview).
Cibus' Vision of Gene Editing in Agriculture
Gene-editing is poised to be agriculture's "analog to digital" technology moment that changes the speed and scale of trait development and Cibus is at the forefront of this transformation with its Rapid Trait Development System™ (RTDS®) and its Trait Machine™.
Cibus' gene editing technologies offer the promise to convert the lengthy and random conventional breeding process (analog equivalent) into a standardized end-to-end semi-automated gene editing system that directly edits elite germplasm from seed companies (digital equivalent). Given the speed with which it can develop new traits using gene editing technologies and the increase in the breadth of traits it can develop, Cibus believes that its gene edited traits will increasingly dominate the trait development industry.
Cibus' vision is embodied in its RTDS®, a system of proprietary technologies that integrate crop specific cell biology platforms with a series of gene editing technologies. RTDS enables the Trait Machine™, a stand-alone semi-automated end-to-end precision breeding system that is timebound, reproducible and predictable. The Trait Machine is the industry's first high throughput (gene edited) trait development system. We believe this is the future of trait development.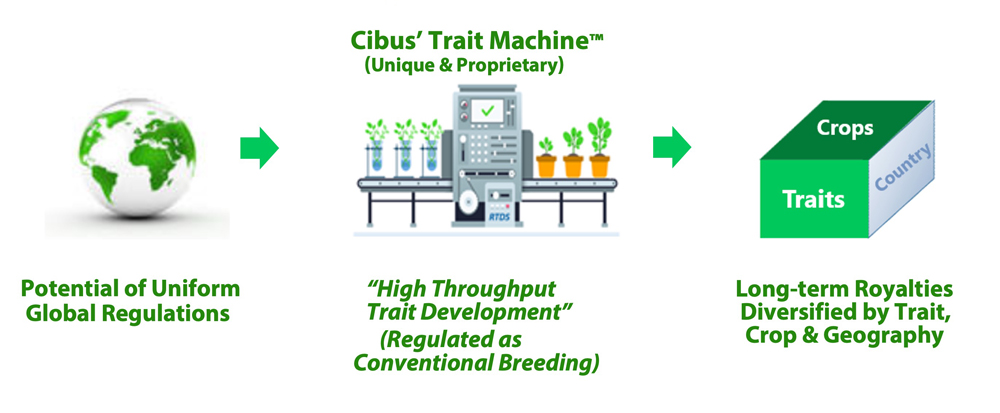 Cibus' vision is to be a pure play trait developer. A technology business that develops and licenses of traits to seed companies in exchange for royalties. Cibus will not be in the seed business. The licensing of traits and germplasm with quantifiable benefits and strong intellectual property is a large part of the seed industry and is our business focus. The trait licensing industry currently is led by seed companies, with the two dominant GMO traits for herbicides and insects (the Bt Trait) estimated to planted on over 300 million acres and to generate approximately $8 billion in royalties each year. We believe future royalties associated with gene edited traits will increasingly dominate the trait royalty industry and Cibus is uniquely positioned to be the leading technology company in this new era of High Throughput Trait Development and gene edited Trait Royalties.
Cibus' Business
Cibus' business is aligned with its vision.
Cibus is near completion of the industry's first High Throughput Trait Development Facility. A facility that changes how new traits are developed and how, once developed, traits are commercialized.
Cibus has already has a pipeline of six important traits. Its first three traits in two different crops have started being transferred to its initial customers. We have 11 different seed companies as customers. There is global progress to regulate the traits from our gene editing technology as traits developed from conventional breeding. We expect initially to be operational in Canola, Rice and Soybean. Once operational, the new facility will give us the capacity to fulfil our current trait demand and start to develop additional traits.
In implementing this business plan, Cibus has made and expects to make significant progress in 2023.
Our Oberlin Trait Machine facility, the industry's first High Throughput Trait Development Facility, is expected to be complete in 2H 2023.
Three of our six trait pipeline began transferring to customers in 2023 in Canola and Rice in our customers' elite germplasms. The other three traits are in advanced development. Each trait, after being edited in a customer's elite germplasm, is licensed to customers in exchange for royalties based on seed sales.
When open, we have customers in all three initial crops for multiple traits per crop. Operational means that at the Oberlin facility, Cibus will be able to edit the elite germplasm of any customer in any of the three crops using the end-to-end trait machine process.
It means that in either of these three crops, we can edit our trait products in the elite germplasm of any customer and transfer back to the customer a market-ready crop with our trait.
It also means that Oberlin would be available for developing new complex traits at a fraction of the time and cost of developing new traits using conventional breeding.
Lastly, Cibus expects to complete it soybean trait platform in 2H 2023 in parallel with completion of the Oberlin facility. Once complete, the Trait Machine will be operational in soybean for any soybean seed company. Its initial customer is GDM, the largest soybean seed company in South America. Cibus expects to initiate editing in soybean for its Sclerotinia resistance trait in 2H 2023.